Hilectro electric forklift truck, the new blood of the forklift industry, had caught the eye
2013-10-28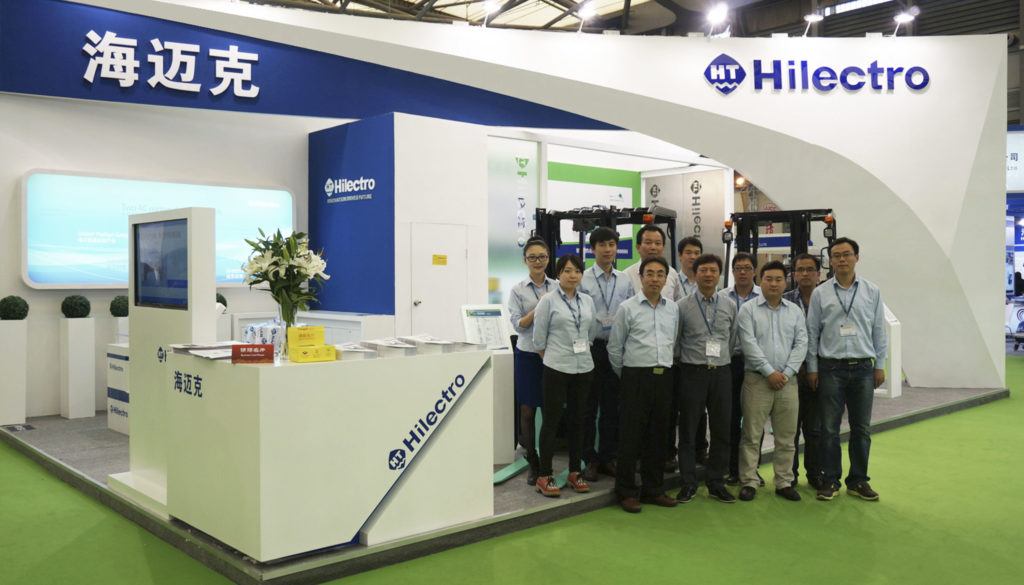 From 28 to 31, October in 2013, Ningbo Hilectro electric forklift truck first participated in the Asian largest forklift logistics exhibition held in Shanghai — the Asian International Logistics Technology and Transport System Exhibition ( CeMAT ASIA). As an rookie in the forklift industry, Hilectro electric forklift truck demonstrated its core technology — electric forklift control system, 2.0 ton electric forklift truck and 3.5 ton electric forklift truck, which attracted a large number of eyeballs with its high technology and excellent performance.
Ningbo Hilectro Power Technology Co., Ltd. is a subsidiary of Ningbo Haitian Drive Systems Co., Ltd., specializing in the production of electric forklift truck, electric stacker, electric landscape vehicles and other energy-saving vehicles. The company is located in the beautiful Oriental harbors, the Chunxiao Industrial Park in Beilun, Ningbo, Zhejiang Province. Its factory covers an area of 110,000 square meters; and has several assembly lines with annual production capacity of more than 10,000. The company has advanced whole-vehicle testing center. Relying on the strong financial strength of Haitian Group, it has developed rapidly in recent years.
At present, Hilectro electric forklift truck has been put into production on a large scale. The forklift truck has many unique scientific and technological innovation advantages in the aspects of power, environmental protection, safety, comfort and equipment: It adopts two front wheels and double drive control and the left and right motor electronic differential speed, reduce the turning radius of forklift truck, and ensure excellent driving performance and good road holding capacity; It takes 3.8 seconds to accelerate from 0 km/h to 5 Km/h. it can achieve vehicle communication network by using CAN bus controller. Hydraulic steering system and hydraulic lifting system ensure the smooth operation of driving, turning, lifting and other movements. Ergonomic combination operating lever, OPS safety system, HSSll seats and other devices ensure excellent driving safety and comfort.
At this exhibition, Hilectro power technology will display 2 tons and 3.5 tons balanced weight electric forklift truck, hydraulic systems of forklift truck and electronic control systems, striving to be the best in the international arena with its excellent quality.
Liang Cailin, general manager of Hilectro Power Technology pointed out: "Innovation and energy conservation are two basic points for the development of Haitian Drive Systems, so we have decided not to make internal combustion forklift truck from the early stage of development and only make high-end electric forklift truck. With its own core technology, Hilectro forklift truck has superior performance compared with domestic electric forklift truck or even imported electric forklift truck. At the same time, we have a strong backing from Haitian Group, and have incomparable advantages in both capital and development platform. We are all very confident about the future of the Hilectro forklift truck".
[haitian_related_posts name="related-posts" id=""]